NEW in South Africa and excitingly hand made at the south eastern edge of the Eastern Cape, by Dee and her team of happy little helpers.
We are excited to introduce our new product offering to the South African market.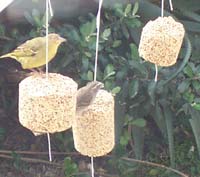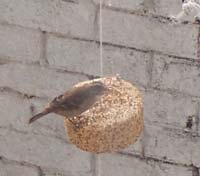 Being both bird and animal lovers, as well as being environmentalists, Dee and Bunny are committed to keeping toxic rubbish out of our South African landfills. to this end they have developed a new product for the bird lovers amongst us, A BIRD SEED BELL. This product is made from locally sourced seeds,  and MOST IMPORTANT OF ALL, THEY DO NOT CONTAIN GLUE AS A BINDING AGENT. We use all natural products to bind our seeds.  ALL the packaging is compostable and bio degradable. Even the ink used to print the labels is vegetable based,therefore non toxic – and we use re-cycled paper for our labels. A FIRST IN SOUTH AFRICA, we are sure.  We are extremely proud of this new product and we know that they attract birds to our gardens, wherever you live. Available directly from us, order 12, get a bakers dozen, or from most farm stalls along the Eastern Cape Route 62, and at Birds of Eden at Monkeyland, outside Plettenberg Bay.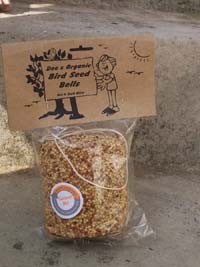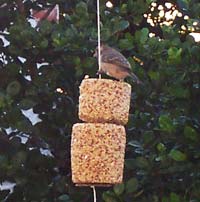 As part of our commitment to the environment, we plant fruit trees to offset any carbon emissions involved in the delivery and manufacture of the seed bells.
We are confident that this product will help drive sales in your business, so join us on this fabulous journey to save the wild birds from glue based feeds.
And feel free to contact us for any information or distributor queries.